Maine Town Spotlight | Houlton ME, Aroostook County.
Maine has sixteen counties, Aroostook is the largest with Houlton ME the "Shiretown".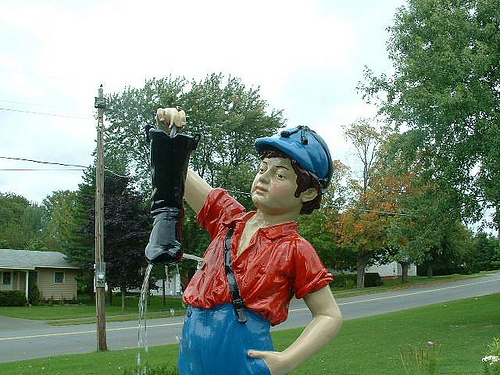 The "Crown Of Maine" is the size of Connecticut, Rhode Island and Houlton ME is the county seat of Aroostook.
Houlton Maine borders the Province of New Brunswick Canada. Interstate 95 begins in Houlton Maine, at the cross road connection of US Rt 1, 2, 2A.
Being a Maine Canadian border town has lots of perks depending on the way the currency exchange rate swings. The Trans Canada highway joins I-95 in Houlton Maine.
Lots of USA border traffic flows freely in to Houlton Maine, the gateway to the Atlantic Provinces of Eastern Canada.
The Boy With The Leaking Boot, Clancy is a friendly Houlton Maine ambassador. And KHUL is the Houlton Maine International Airport designated call letters. Located two miles east on the US – Canadian border, Houlton Maine's airport has an elevation of 490′.
One Houlton Maine Airport's paved runways is 5015′ long x 100′ wide.
The other HIA runway is 2700′ long x 60′ wide.
The Houlton Maine airport's use, location was vital during the Lend Lease program with England prior to actual entry of World War Two.
It housed army barracks and a German prisoner of war camp during the war effort. Camp Houlton allowed base inmates to work the area farms to help get the crop planted, harvested.
POW labor at Camp Houlton were used to help the area Maine potato farmers with their planting, harvesting of agricultural crops.
Today, an active Industrial park exists with tenants like Ward Log Homes, the nation's oldest cedar log cabin producer. Smith and Wesson, the well known hand gun, hand cuff producer also owns an expanded facility in Houlton Maine's Industrial Park.
It's no secret that Aroostook County is home of hard working farm and woods workers.
As kids growing up, the entire family pitched in to help with the household expenses and to earn our keep! Lazy is not a word used to describe anyone from Northern Maine born and brought up here.
The population of Houlton Maine is 5752 in the six by six mile township itself. But many bedroom communities surround the town of Houlton Maine, the shopping, education, health, business center for Southern Aroostook County.
Settled in 1807 by Joseph Houlton, Aaron Putnam and family, friends from New Salem Massachusetts, Houlton Maine became incorporated on March 8th, 1831. Maine was a part of Massachusetts and became a state of its own prior to that in 1820. Fertile soil, clean natural waterways, valuable timber and ample space, elbow room was the attraction for the earlier Houlton Maine settlers.
Houlton Maine, the largest soap box derby race city five years in a row in the entire nation.
The Maine Soap Box Derby races are held on a specially built hill to the left.
Engineered after the one for the World Series of Tracks in Akron Ohio's All American race course.
Early black and white television children's show host Howdy Doody owned the local WHOU radio station for many years and two other stations besides Houlton Maine.
The Houlton Pioneer Times is the local weekly newspaper serving the Southern Aroostook readership. It is the only paper in the World interested in the area we call home.
Ricker College operated a higher education center in Houlton Maine from 1848 to 1978.
Ricker College started the annual Meduxnekeag River Canoe Races, which the Rotary Club of Houlton Maine took over for many years. Today, annual spring canoe and kayak races are orchestrated by the Dollars For Schools SAD 29 and SAD 70 schools systems.  And what about places to spend the night, Houlton Maine motel options for rooms?

University College In Houlton Maine helps in post high school education pursuits.
Houlton Maine is a very well known musical town.
With years of success in our local schools with strong, vibrant show choir, jazz band, percussion ensemble and voice / instrument programs.
Houlton Maine is often the state venue for music competitions due to a strong volunteer boosters program.
McGill's Community Band is 100 dedicated musician volunteers who entertain the Houlton Maine community Thursday nights. Pull up a folding chair in front of the the Amphitheatre platfom. The performing stage is located behind Cary Library.

Houlton Maine has a rural community, connected family atmosphere of its hard working people.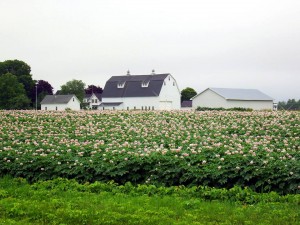 Farming for potato, grains, broccoli, dairy, beef are the norm. So is harvest of our timber wood resources in Southern Aroostook County, Northern Maine. Sporting lodges of all types and the Big Rock Ski Area, the Southern Aroostook Agricultural Museum all help to pump tourist visitor dollars in to the local economy.
The Houlton Community Golf Course is located on the shores of Nickerson Lake, New Limerick Maine.
We rounded up a lot of leads for job seekers, place to start the career search. Looking for a job, seeking employment in Houlton Maine?
The architecture of the Houlton Maine area is Victorian and brick structures dominate the downtown, Market Square. Thank you for reading this post and letting me be your local personal tour guide to share information from an insider who lives, works, plays here! Houlton Maine's weather, climate, topography is four season pleasant.
Our summer average daily temperature is 72 degrees.
In winter the average height of the mercury level in a Houlton Maine thermometer is at the 19 degree mark.
Our Houlton Maine recreation activities happen outdoors year round.
Usually involves water, like a Maine lake, river, stream, ocean front for our enjoyment from boating to fishing, swimming, water skiing.
The fun in Houlton Maine is no cost, low cost. Hiking Mt Katahdin, Aroostook State Park, Mars Hill, Mt Chase Mountains provide great exercise and a family event that becomes a tradition.
There is no shortage of Maine lakes surrounding the Houlton Maine area. The Houlton Community Golf Course greens overlook the Nickerson Lake crescent shape waterfront.
To the south, Grand Lake is one of the Maine's top eight biggest lakes.
Since 911 happened, the Houlton Maine port of entry on the US Canadian border has been beefed up, staffed heavier with more jobs in the Customs, Immigration and Border Patrol law enforcement fields.
The Maine State Police Troop F, The Aroostook County Sheriff's Department are based out of the county seat of Houlton Maine.
Houlton Maine is part of Vacationland. Learn the quick Maine state tourist information game show question winning answers.
You are relocating, retiring, moving to Northern Maine and want to know about Internet, phone, cable providers in Aroostook County. Well, not any more.
Houlton Maine Regional Hospital services the Southern Aroostook area's medical needs.There are a number of nursing home facilities, assisting living options in Houlton Maine. So does Katahdin Valley Health Center.
And the local Houlton Maine police department provides more than adequate service to protect the local citizens.
The Local HFD Dairy Bar is a hot spot for cooling off.
For ice cream cones, shakes, sundaes and more quality summer ice cream products from local, happy Aroostook cows.
A small town dairy bar is a meeting place to mingle and sample something local and sweet to eat.
Maine, the 4th lowest crime state, northern sections of Vacationland and impressive half that pretty special state average.
Tourists not desiring the traffic traps of the Maine coast where 100 cruise ships visit along with many motorists each year seek out Houlton Maine's laid back, relaxing vacation options.
The sportsmen's year round visits to the Southern Aroostook area happen year round. Hit the recreational trails and enjoy your time in the Northern section of the state.
The town of Houlton Maine has a dairy facility supplied by local farmers, happy local cows to assure freshness. Without growth hormones.
The Houlton Farms Dairy is a good corporate partner supporting many worthwhile local causes.
In addition to offering dairy bar ice cream, a variety of other milk products, the Houlton Farms Dairy has supplied the Southern Aroostook area since 1938. Samantha Smith the global peacekeeper was born in Houlton.
Houlton Maine town property taxes are due October 15th. Buying a homes, here's a list of Houlton Maine lawyers, attorneys if that helps and is needed.

The 4th of July In Houlton Maine offers a multi day state fair and Midnight Madness retail celebration in the down town.
Watch a video of the Midnight Madness.
Catch a Houlton ME State Fair video.
The School Administration District 29 (SAD 29) serves Houlton, Littleton, Monticello and Hammond Maine K-12 school children.
MSAD 29 provides a quality education to area youth. Neighboring SAD 70 in Hodgdon Maine is the closest other school system beside the non-denominational Houlton Christian School.
Maine has roughly five thousand home schoolers and a network of help, support for this method of teaching, learning is strong in the Pine Tree State.
We are all taught to be good with spending, saving growing up in Houlton Maine.
Frugal, living within our means is an art form.
Overspending is frowned on and money not used to impress. To cause envy. Folks are down to Earth, friendly, hard working and family oriented for life. Taking care of what you are lucky to have, earned is the way we roll.
Buying some of Northern Maine is not a problem with several Houlton ME financial bank mortgage lenders to pick from, consider.
Houlton Maine is served by six banks, the worship clergical needs met by a dozen churches.
Besides the weekly the Houlton Pioneer Times, a big part of early broadcasting is local radio station WHOU.
Discover more information, helpful links, Houlton Maine images.
More Maine photos. Learn more about what is going on by letting us know your interests, what you need for information. And is that your stomach we all hear grumbling. Let's fix that quickly.
List of Houlton Maine restaurants, diners, cafe, drive thru eating options. Stay tuned for more blog posts topics to help you learn more about this neat area of Maine. Lots to share so let's connect. Learn about the parks and rec trails, our historic two screen movie theatre, how neat being on the Canadian border is and about our down to Earth people.
There is no better place to raise a family, to enjoy volunteering to make the area what it is. Small towns, that is what Maine is all about for a healthy way of life. Maine only has a handful of cities.
Thing you want to know about if you are new to the area, Southern Aroostook County/ Here to provide the insider information for you! Thank you for reading this blog post on the community of Houlton Maine.
207.532.6573 info@mooersrealty.com
MOOERS REALTY 69 North St Houlton ME 04730 USA
Watch our Maine Videos. Follow our MeInMaine Blog Posts. Browse Houlton Maine Area Listings.